For HIV-1–negative, at-risk adults and adolescents weighing at least 35 kg for PrEP to reduce the risk of sexually acquired HIV-1. See full Indication.
HPTN 084 (N=3224) was a randomized, double-blind, placebo-controlled superiority trial conducted in 20 sites around sub-Saharan Africa to evaluate the safety and efficacy of APRETUDE compared with daily oral TDF/FTC for HIV-1 prevention exclusively in cisgender women.1,2 See details below.
FTC=emtricitabine; TDF=tenofovir disoproxil fumarate.
The first and only long-acting, injectable PrEP study exclusively in cisgender women1
Selected inclusion criteria2:
Cisgender women, 18-45 years old
HIV-1 negative at screening and enrollment
At high risk of sexually acquiring HIV-1 infection
Negative pregnancy test (if of reproductive potential)
Use of long-acting contraception (if not sterile or with history of hysterectomy)
Selected exclusion criteria2:
History of liver disease
Pregnant or currently breastfeeding
Trial Design and Primary Endpoint1,2

*Optional oral lead-in, if used, should be taken for approximately 1 month (at least 28 days).1
Primary endpoint:
Incidence of HIV-1 infections1
The blinded phase of the trial was stopped early based on efficacy results at the first preplanned interim analysis2
HPTN 084: Selected Baseline Characteristics
Selected Baseline Characteristics1,2
In a clinical trial1
APRETUDE delivered superior efficacy with significantly lower incidence of HIV-1 infection vs a daily oral PrEP (TDF/FTC)
Significantly Lower Incidence of HIV-1 Infection vs a Daily Oral PrEP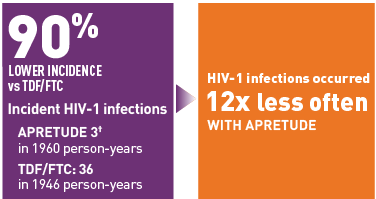 Hazard ratio (95% CI): 0.10 (0.04-0.27); P<0.0001. APRETUDE incidence rate 0.15/100 person-years vs 1.85/100 person-years for TDF/FTC.
†An initial analysis showed 4 incident infections in the APRETUDE arm (hazard ratio [95% CI]: 0.12 [0.05-0.31]). Retrospective testing showed 1 of the 4 to be a prevalent infection, resulting in 3 incident infections.1
Resistance
Of the infections in the APRETUDE arm, no major INSTI resistance-associated mutations were detected1
Of the incident infections in the TDF/FTC arm, NRTI resistance-associated mutations were detected in 1 of the participants3
Incident infections were infections which occurred over time among subjects uninfected at enrollment.
Prevalent infections were infections present (but unrecognized/undiagnosed) at enrollment subsequently identified on retrospective testing.
CI=confidence interval; INSTI=integrase strand transfer inhibitor; NRTI=nucleoside/nucleotide reverse transcriptase inhibitor.
In a clinical trial1
APRETUDE delivered superior efficacy with significantly lower incidence of HIV-1 infection vs a daily oral PrEP
Cumulative Incidence of HIV-1 Infections in HPTN 084

Based on an analysis of prespecified subgroups and populations1
APRETUDE demonstrated a consistent protective benefit across age and BMI groups vs a daily oral PrEP
Incidence of HIV-1 Infection by Age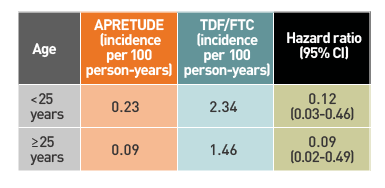 Incidence of HIV-1 Infection by BMI
No resistance-associated mutations were detected in participants receiving APRETUDE
Of the prevalent infections in the APRETUDE arm, there were no major INSTI resistance-associated mutations detected3
Of the prevalent infections in the TDF/FTC arm, there were no major NRTI resistance-associated mutations detected3
Based on an analysis of TFV plasma levels in a subset of the TDF/FTC arm2
Plasma levels revealed that some participants did not achieve recommended levels of tenofovir
Detectable Levels of Tenofovir2
Figure shows the proportion of a randomly selected subset of participants (n=375) in the TDF/FTC arm with drug concentrations measured in plasma that reflects use of tenofovir over the previous 1 to 2 weeks.2
Centers for Disease Control and Prevention guidelines recommend cisgender women taking daily oral PrEP be 100% adherent, meaning 7 days a week4
Continue the Efficacy Story
References:
APRETUDE [package insert]. Research Triangle Park, NC: ViiV Healthcare; 2021.
Delany-Moretlwe S; HPTN 084 Study Team. Long acting injectable cabotegravir is safe and effective in preventing HIV infection in cisgender women: results from HPTN 084. Presented at: HIV R4P Virtual Conference; January 27, 2021. Abstract LB1479.
Marzinke MA, Delany-Moretlwe S, Agyei Y; HPTN 084 Study Team. Long-acting injectable PrEP in women: laboratory analysis of HIV infections in HPTN 084. Poster presented at: 11th International AIDS Society Conference on HIV Science; July 18-21, 2021. Virtual
Centers for Disease Control and Prevention. Preexposure Prophylaxis for the Prevention of HIV Infection in the United States: 2021 Update. December 2021.

https://www.cdc.gov/hiv/pdf/risk/prep/cdc-hiv-prep-guidelines-2021.pdf